Sources: Chess-News + Chess in Translation
FIDE has just announced the dates for the Candidates matches in Kazan, Russia (3 to 27 May 2011), but leave the replacement of Carlsen by Grischuk as a dangling hypothetical. If it materializes then the pairings change quite dramatically. In a long and eloquent interview conducted during the Blitz World Championship Teimour Radjabov speaks his mind.
FIDE
has just announced
the dates of the Candidates Matches in Kazan.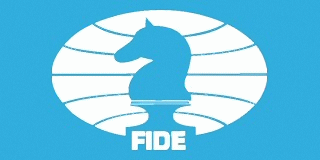 Dates for Candidates Matches 2011
Tuesday, 23 November 2010 07:20
FIDE announces that the Candidates Matches to determine the challenger for the next World Championship Match will be held in Kazan, Russia from 3 to 27 May 2011.
The eight original qualifiers are GMs Veselin Topalov (Bulgaria), Magnus Carlsen (Norway), Vladimir Kramnik (Russia), Levon Aronian (Armenia), Boris Gelfand (Israel), Shakhriyar Mamedyarov (Azerbaijan), Teimour Radjabov (Azerbaijan) and Gata Kamsky (USA). In case of replacements, the three first reserves from the FIDE Grand-Prix 2008-2009 are respectively GMs Alexander Grischuk (Russia), Dmitry Jakovenko (Russia) and Wang Yue (China).
All the participants are requested to confirm their participation by returning their ATTACHED PLAYER'S CONTRACT signed to the FIDE Secretariat by 22 December 2010, 13:00 GMT, through fax or email and by registered post. The full technical regulations of the Candidates Matches 2011 are available on the FIDE website.
As you can see the replacement of Carlsen by Grischuk is dealt with as a hypothetical – and in fact our colleagues at the Blitz World Championship in Moscow tell us that it appeared that FIDE was lobbying quite vigorously to get Magnus to change his mind. But if he sticks to his decision the pairings will in our opinion be as follows:
Previous pairings

New pairings

Veselin Topalov

-Gata Kamsky

Veselin Topalov

-Gata Kamsky

Magnus Carlsen

-Teimour Radjabov

Vladimir Kramnik

-Teimour Radjabov

Vladimir Kramnik

-Shakhriyar Mamedyarov

Levon Aronian

-Alexander Grischuk

Levon Aronian

-Boris Gelfand

Boris Gelfand

-Shakhriyar Mamedyarov
So it is possibly a matter of "Gentlemen, restart your preparations!" Here for the recordn are the relevant regulations pertaining to the matches themselves, which carry a total prize fund of 420,000 Euros:
3. 1 Matches Format & System
A - First Round of Matches (8 players)
a1 - Matches System: The player who lost the World Championship Match 2010 (V. Anand or V. Topalov) is ranked No.1, the rest are ranked in rating order using the FIDE Rating List of January 2010. The players are paired the following way: 1 vs 8 (match 1), 2 vs 7 (match 2), 3 vs 6 (match 3), 4 vs 5 (match 4). Each match will consist of 4 games.
a2 - The four (4) winners will qualify for the second round of the Candidate Matches.
B - Second Round of Matches (4 players)
b1 - The Second Round of Matches will start 2 days after the end of the First Round. Any qualified player for the second round of the Candidates Matches can only be replaced by the player he defeated in the first round of the Candidate Matches.
b2 - Matches System: The players are ranked according to the results of the first round of the Candidates Matches: winner of match 1 is No.1, winner of match 2 is No.2, winner of match 3 is No.3 and winner of match 4 is No.4. The players are paired the following way: 1 vs 4 and 2 vs 3. Each match will consist of 4 games.
b3 - The two (2) winners will qualify for the third round of the Candidate Matches.
C - Third Round of Matches (2 players)
c1 - The Third Round of Matches will start 2 days after the end of the Second Round. Any qualified player for the third round of the Candidates Matches can only be replaced by the player he defeated in the second round of the Candidates Matches.
c2 - Matches System: The match between the two players will consist of 6 games.
c3 - The winner will qualify for the World Championship Match 2011.
---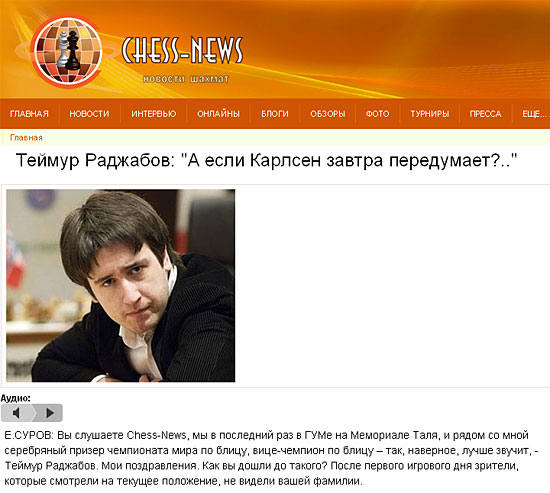 Teimour Radjabov: "And what if tomorrow Carlsen changes his mind?.." asks the headline in the above interview, conducted by Eugeny Surov, that appeared on the Russian site
Chess-News
. The full audio is provided, but is of course in Russian – though even if you do not speak the language you can get an impression on how determined and eloquent this young man is. Here is the gist of what he says, gleaned from that excellent service
Chess in Translation
.
Surov first asks Radjabov about the
Blitz World Championship
that took place a week earlier in Moscow and which the young Azeri finished in a close second place. Radjabov came from nowhere – he finished the first day on seven points and in 11th place – to almost catch Levon Aronian. He gives an interesting insight into the factors that count in blitz when he talks about how he managed that feat:
After the first day I simply wanted to find my game. I didn't even think about climbing the table. The main thing was to get the feel for the game in my hand. In blitz that feel is very important – when you're moving the pieces correctly, putting them on the right squares, when you're allocating everything precisely – both time and your chances at the board. That was what crippled me on the first day – I wasn't evaluating positions very clearly or correctly. I was playing too aggressively. I simply got warmed up on the first day, but really warmed up, as 14 games is a full tournament. On the second and third days I was already approaching optimum form. When you haven't had blitz experience for a long time – before we'd spend all our time playing on the ICC, every day, each of us playing for days on end, while now we do it less as there are classical tournaments, classical chess, higher aims, and so on. We try to play less blitz and here we needed some training, so it was necessary to get warmed up at the Championship itself, on the first day.
And then, it seems to me, my game went very well. The second day and today… Today I think I won a great number of games.


Today you simply chalked up one victory after another.

Yes, I simply won almost every game.


But what happened in the penultimate round?

In the penultimate game I thought that as Aronian was playing Karjakin with White he wouldn't lose, so I had to win. Therefore on 1.e4 I went for the Scandinavian, which I don't play in general. The opening's relatively dubious and hard to play even in blitz, but I didn't see any other variations I could play for a win. In the Sicilian Sergey (Movsesian) can play 2. c3 or something like that, and you get a heavy struggle, but I wanted something sharper. It was, of course, a mistake – I should have played normally as I'd been playing in all the other rounds, i.e. more calmly. Though once again, it depends on the play. During the game I had an excellent position and at some point I could have played Nf3+. I don't know if you saw it – 29…e4 30. Bg2, I played 30…Ne5 there, and then I had the move 31…Nf3+ 31. Kf2 Qe5.
I had excellent chances and really could have achieved the desired result, but when I didn't go for that I lost. So ok, all that was left was to play Gelfand for second place.
The second half of the interview was devoted to the
announcement
by Magnus Carlsen that he was withdrawing from the Candidates Matches. To this Georgios Makropoulos
had responded
on behalf of FIDE stating:
At this point in time, the current cycle is in its final stages and it is not possible for FIDE to change its regulations. In the case of GM Magnus Carlsen not participating, according to regulations GM Alexander Grischuk from Russia will be his replacement.
To this the new ECU President Silvio Danailov responded in an interview:
According to my knowledge nobody can replace Magnus by regulations. Article 3. 3. 3 says that "Any player who withdraws after the 15th of May 2010 shall not be replaced and his opponent in the first round is declared as winner." This means that according to the regulations Radjabov has to move directly to the second round. But maybe I am missing something, FIDE should know better.
Radjabov appears to share a similar opinion, as his interview with Surov continued:
Teimur, I still haven't asked your opinion on the recent decision of Magnus Carlsen to leave the Candidates Cycle. That's even though you are, so to speak, the main injured (or not injured) party – I don't know how to put it. You were supposed to play Carlsen. What do you think about it?

I honestly don't want to comment on it for one simple reason: it's not an official decision at the moment. He wrote to FIDE that he didn't want to play in the cycle, and so on, but I don't consider that official. He hasn't rejected the contract they're supposed to send him. When he rejects the contract then I'll genuinely be able to say something. But what if tomorrow he says "I'll play"? Then what happens?


All the same, as I understand it FIDE has already officially declared that Carlsen will be replaced by Grischuk. They've even already carried out the draw and decided on the new pairings.

I haven't seen that. To be honest, I've looked at all the sites but I don't think I've seen any official pairings. I've seen the reply of Makropoulos – the FIDE Vice President – saying that if Carlsen won't play he'll be replaced by Grischuk according to the regulations. But that raises big questions as according to the regulations players who refuse to play after 15 May should be treated as having lost…


So have I understood correctly that when the official decisions are taken you'll have a close look at them, consult on the legality, and if something doesn't suit you you'll perhaps try to take some measures?

Yes, most likely. Firstly, I conducted my preparation specifically for Carlsen, and this isn't the first month – it's been a certain period of time. As a result I've wasted some resources on trainers and preparation for the match, because my opponent, to put it mildly, is a serious one. Probably the most serious in the whole cycle, or one of them, let's say. And if things are done according to the rules…
It's like the Football World Cup. If one team drops out then they don't look for a replacement but that team is considered to have lost. So in the given situation – I have nothing against Carlsen or, of course, Sasha Grischuk. I have excellent relations with both of them. I'd simply like everything to be done according to the regulations. And if they're broken, then FIDE should in some way be held responsible, because it's a professional organization and it should keep to its contracts after drawing them up with the players. It's a professional sport, and I think contracts should be honoured. I'm not against someone playing, entering the cycle. I'm always glad, and so on. But after the targeted preparation I've done for Carlsen… If you can just replace someone like that it's very strange. It's all very strange for me right now.
Again, as I said, I need to look into it and I can't make any precise declarations now, because tomorrow, if Magnus says he's decided to play, then he'll be back in the cycle, as I understand it. For now there's no official refusal and I think it would be silly to comment. The only thing is that as you've correctly noted, if FIDE introduces changes then I'll check everything carefully, what's legally contained in the regulations and contracts. We, of course, have had a quick look at all that, but we haven't gone into it the way the FIDE people have. So now it'll be necessary to check.